Zero Reasons Why® is driven by teen activists who want to see mental health conversations elevated and the suicide rate amongst their peers reduced. Whether serving on one of our Teen Councils, being a digital advocate on social media or sharing their perspective and why they care, teens are at the center of our efforts to remove the stigma of mental health.
It doesn't mean there are zero reasons why a teen might contemplate suicide. It doesn't mean their feelings aren't valid. There are many valid reasons a teen may struggle with their mental health – but there are zero reasons why we can't equip, empower, discuss, educate, remove stigma and come together to impact prevention, treatment and recovery.
The campaign seeks to prevent factors that contribute to teen suicide, including the stigma surrounding mental health, the lack of community support and the need for more comprehensive, earlier mental health education. The campaign's name presents an opportunity for all of us to fill in the blank from our own perspective: "There are Zero Reasons Why® ________________."

What Does The Icon Stand For?
Hidden inside the hashtag symbol are four structural components that represent a call to action:
i=individuals uniting
!=immediacy of importance
The four components represent four key groups of people who should be united in teen suicide prevention: teens, parents, educators and health professionals. They unite to form the hashtag symbol, representing the urgent ongoing conversation and collective voice, while also being functional in the campaign's grassroots efforts as a social media movement.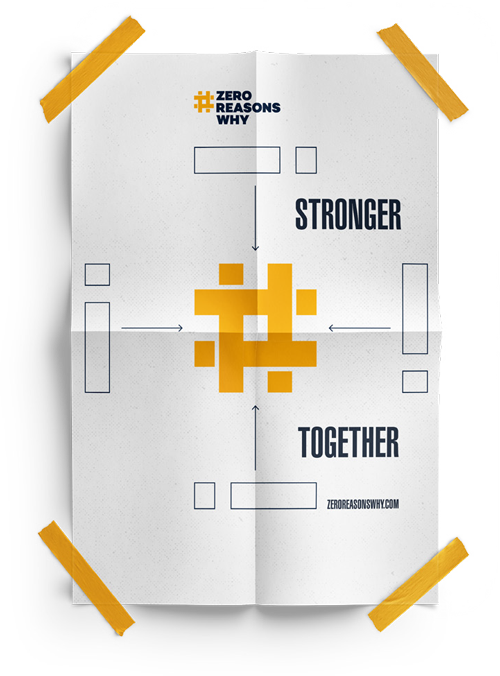 During the first six months of 2018, teen death by suicide nearly doubled in Johnson County, Kansas. A total of fifteen teen suicides occurred during the 2017-2018 academic year in the county, which includes several Kansas City-area suburbs and six school districts. This alarming epidemic mirrored a nationwide trend of increased suicides amongst teens.
The six school district Superintendents brought together leaders in the community, including health professionals, government leaders, nonprofit voices, the faith community and parents to form the Johnson County Mental Health Convening. They enlisted the help of Overflow, a Kansas City-area idea adoption firm, to help establish and propel a movement to prevent teen suicide. Out of that work, three recurring themes were identified that became the foundational ideas for Zero Reasons Why®:
Teen voice should be amplified
Stories need to be shared
The entire community must take action
The campaign continued to gain momentum through partnership with the mental health professionals at Johnson County Mental Health Center, whose support helped the campaign grow, while providing teens with direct access to mental health support. Their team's expertise, vision and commitment to the campaign allowed for incredible growth, reaching more students and uniting the community around the effort. What is now the Zero Reasons Why® framework began because an entire community was willing to work together, try something new and amplify teen voice at the center of it all.