High schools across all Sedgwick County, Kansas, school districts are invited to sign up for one Zero Reasons Why in-school mental health awareness event each semester. In-school events are held over the lunch period.
School administrators, teachers or counselors may schedule an event on behalf of their high school through the link below. We offer a changing menu of interactive events and only require a folding table and 1-3 student volunteers to support the staff member from our team, who will provide all event supplies. View our current event menu below and click the button to schedule your school's event.
Teen Council members who lead the "Commit to Education" committee are designing a mental health awareness presentation for middle schoolers. High school council members will facilitate an in-person session for middle school students during a designated class period. The presentation will emphasize self-care best practices and community resources, encouraging help-seeking behavior in younger audiences before they face the pressures of high school.
If you are an administrator, teacher or counselor who would like to sign up your middle school for an awareness session, please complete the below interest form. Once sessions are available, we will reach out with the full presentation for review and options for booking.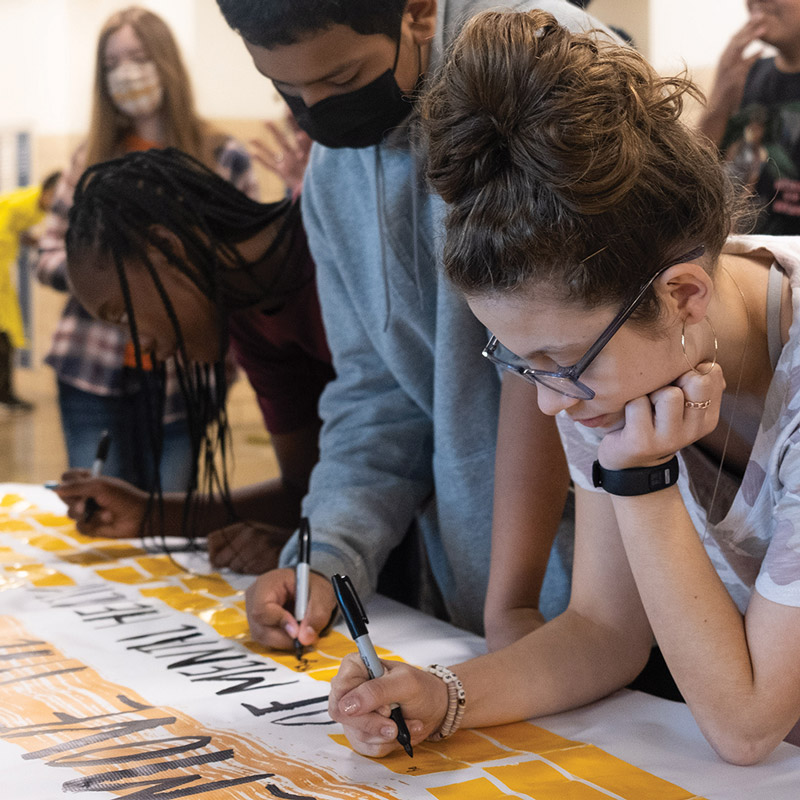 Banner Day
A Zero Reasons Why Banner Day invites students to participate by writing words of encouragement, a personal mental health mantra or simply adding their name to a piece of tape on a large banner as an act of student body unity to remove mental health stigma. After the event, schools keep and display their banner to remind students that they're not alone. Banner Days are recommended for any school that hasn't yet held an event with us.
What we provide: One staff member with a 6' x 3' banner, Campaign swag and mental health educational resources.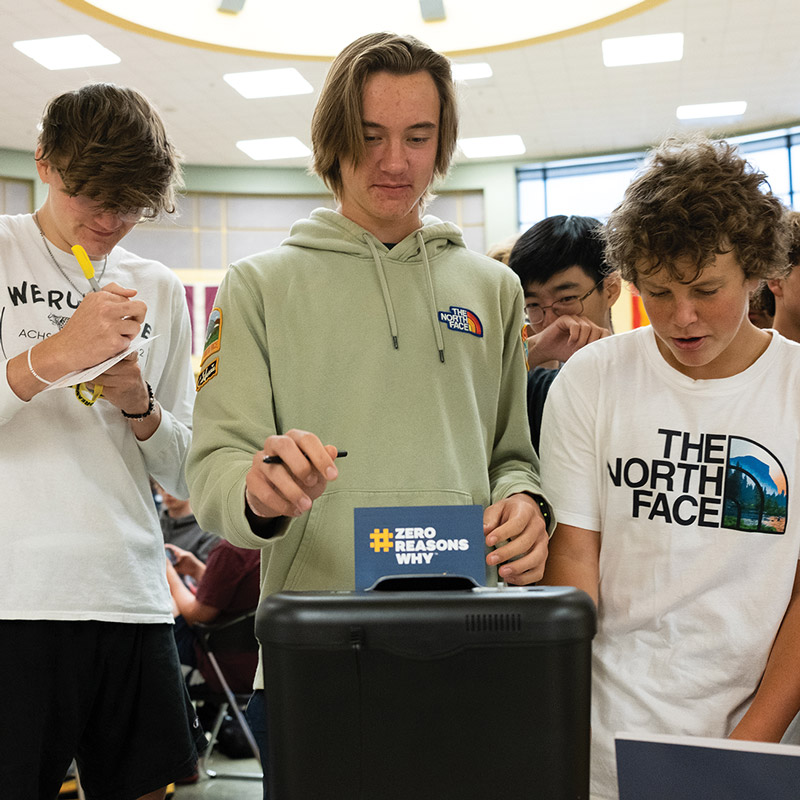 Take It or Leave It
Students create custom postcards with words of gratitude and "take it" for themselves or share with someone else. They also release worry or anxiety by responding to a written prompt and sending it through a paper shredder to "leave it" behind. This event is aimed at keeping words of encouragement top of mind and letting go of stressors or anxieties outside of our control.
What we provide: One staff member with "take it" gratitude postcards, "leave it" prompts, Campaign swag and mental health educational resources.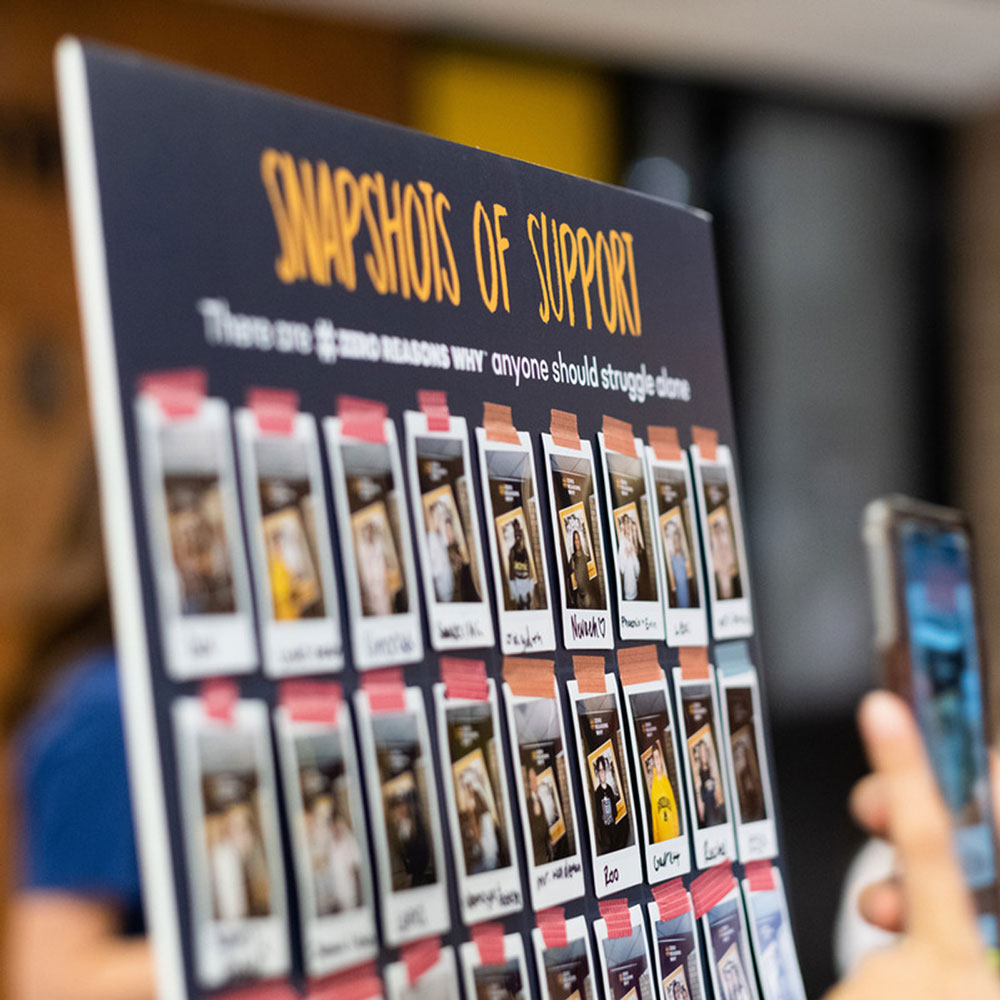 Snapshots of Support
Students are invited to rally around the statement "there are Zero Reasons Why we should struggle alone." They take a polaroid photo of themselves or with classmates and add it to a poster along with their name and an encouraging message. We leave the poster behind for your school to display so that anyone can see the familiar faces of supportive peers.
What we provide: One staff member with a pop-up selfie station, a polaroid camera, Campaign swag and mental health educational resources.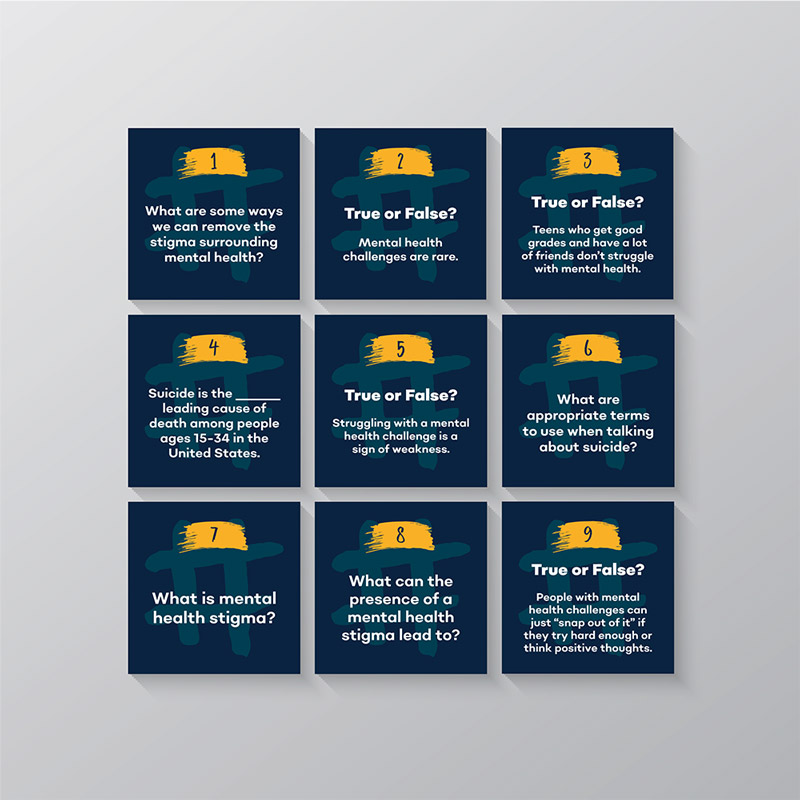 Mental Health Quiz Game
This trivia game awards students with Zero Reasons Why swag for answering one of our quiz cards questions. Each card is designed to remove mental health stigma and remind students of local resources in their area. The quiz includes questions such as, "What are some ways we can remove the stigma surrounding mental health?" and "What are appropriate terms to use when talking about suicide?". If you're looking for an engaging, educational way to talk about mental health awareness in your school, this is a great option.
What we provide: One staff member with 25 large quiz cards, Campaign swag and mental health educational resources.