Community mobilization efforts focus on empowering community members to take action toward change.
Community mobilization
furthers the Community Plan by facilitating or supporting programs, events and collaborative outreach efforts that create efficient ways for the community to come together to help remove the stigma surrounding mental health and increase awareness of resources.
Community mobilization begins with initial strategic planning efforts, followed by the tactical implementation, partnership development and grassroots engagement to provide increased impact and greater reach.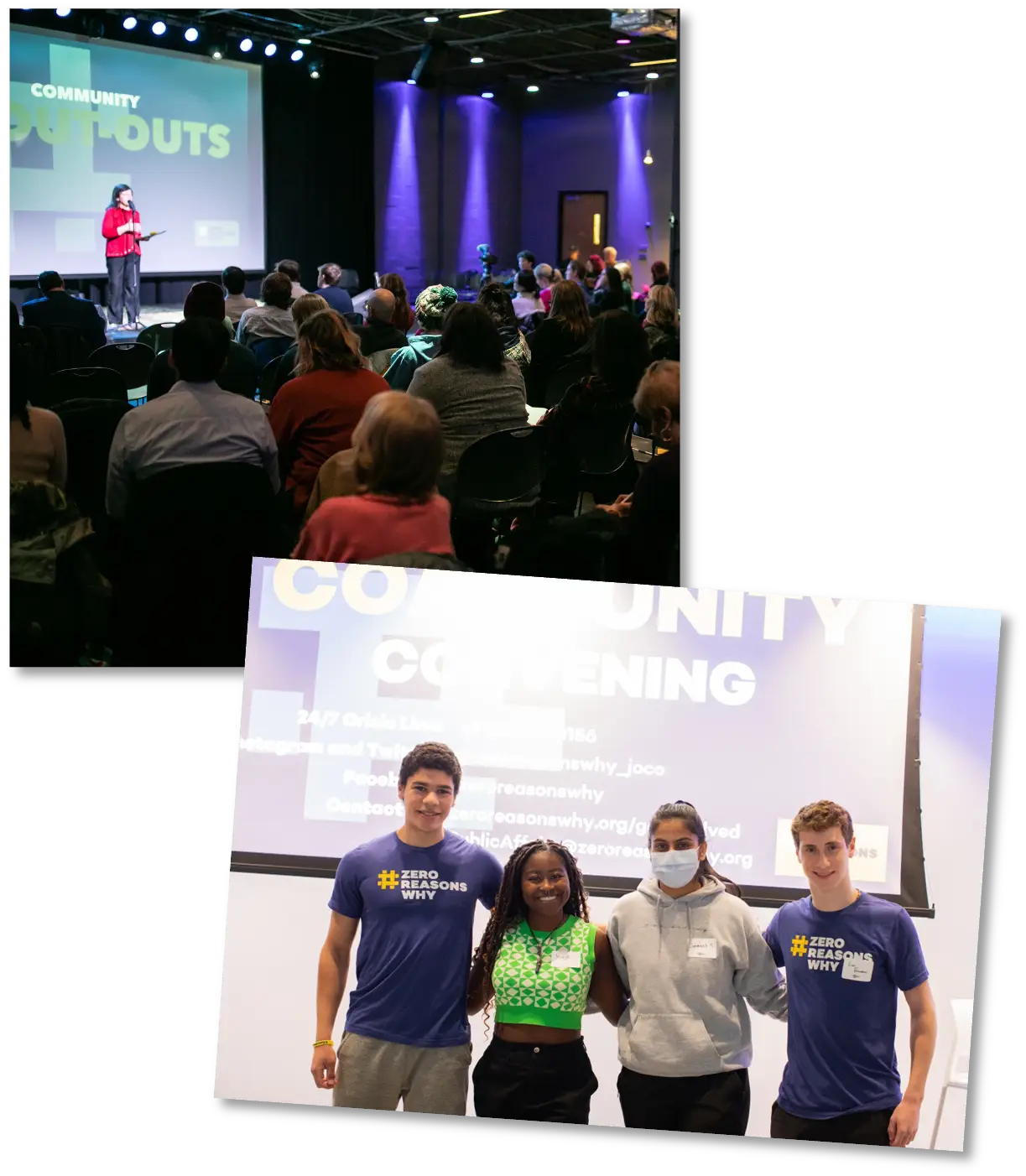 By starting at the local level within each community, we can assess the work already being done, increase collaboration, improve communication and reduce redundancies or blind spots. The Campaign gives everyone a common banner under which to work.
Community mobilization activities include meetings, both Campaign-hosted and those hosted by partner organizations, as well as strategic initiatives, such as school events or public rallies, and public relations efforts with media. Each community event or meeting presents new opportunities for sharing the work of the Campaign, finding new partners and increasing opportunity for additional collaboration, storytelling and resource-mapping.
One critical goal of the Zero Reasons Why Campaign is to promote collaboration under a common movement to help break down silos between stakeholders in the community. Community mobilization helps us do this by aligning all members in a community in the effort to promote mental health and prevent suicide.
Hear from some of our Teen Advocates and Community Partners on how they've experienced the impact of the Campaign's community mobilization efforts:
"Participating in Zero Reasons Why gave me the opportunity to channel my passion for mental health into impactful work through public speaking, event planning and community outreach." – Roariker Swenson, Teen Advocate
"Zero Reasons Why has provided our student leaders with the necessary tools to promote healthy lifestyles for their peers. This group along with other mental health initiatives has helped to end the stigma of talking about mental health and helping to get the word out on resources for students." – Tonya Merrigan, PhD, Educator
"In the midst of a pandemic, our community saw a 33% reduction in teen suicide from 2019 to 2020. Their work makes a difference. These teens and this movement will leave a legacy in our community and beyond that has a lasting positive impact resulting in many lives saved." – Tim DeWeese, Mental Health Professional
"Zero Reasons Why has given me countless opportunities. I feel more confident and comfortable speaking about mental health and suicide. I am more educated on the topic and can do my part to remove the stigma." – Kyra Fuchs, Teen Advocate